Everyone around her is enchanted with her charm, femininity and an irresistible smile. Her energy will mesmerize you. The defining characteristic of A'marie's new collection is a beautiful, savvy and unique woman. A woman who dares to dream of greater things in life, who celebrates feminine beauty and eternal modern sophistication matched with delicate retro elegance. She is a Pretty Woman – A'marie, a modern day heroine who will disarm you with her alluring smile and impeccable sense of fashion.
For her spring 2021 collection, A'marie pays tribute to the charismatic Vivian Ward, a strikingly beautiful brunette that captured hearts of millions around the globe. Fast forward today, the same Vivian, her style, her allure and her energy are portrayed in a modern A'marie. A victorious woman that adores equally simplicity and minimalism, as she does statement creations that make her feel more confident.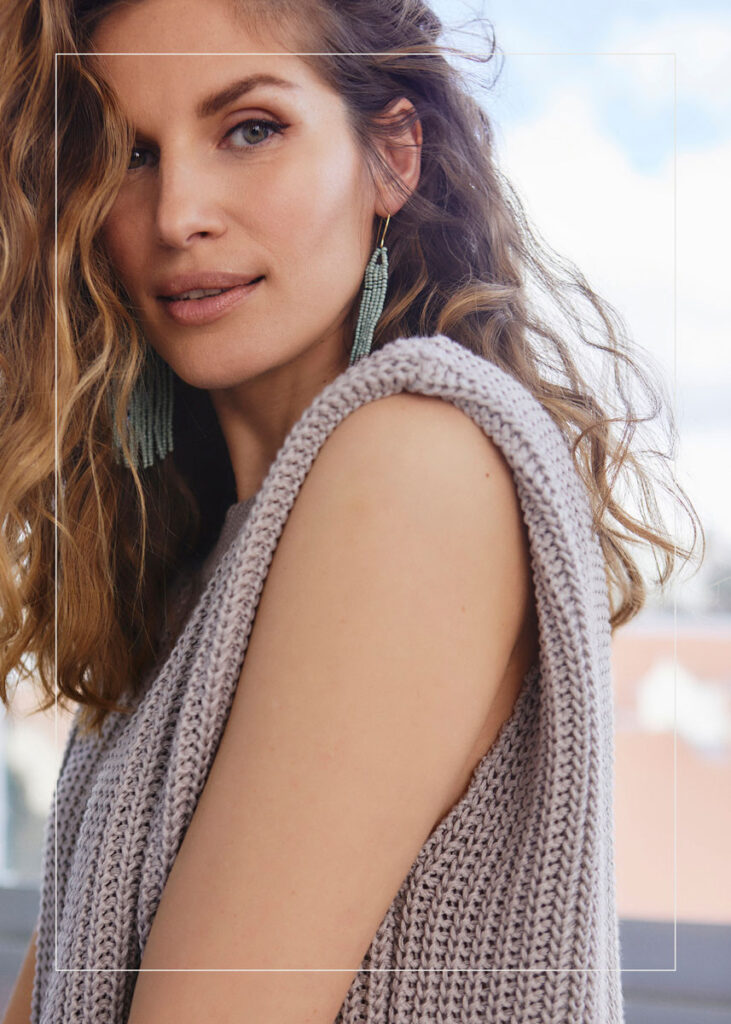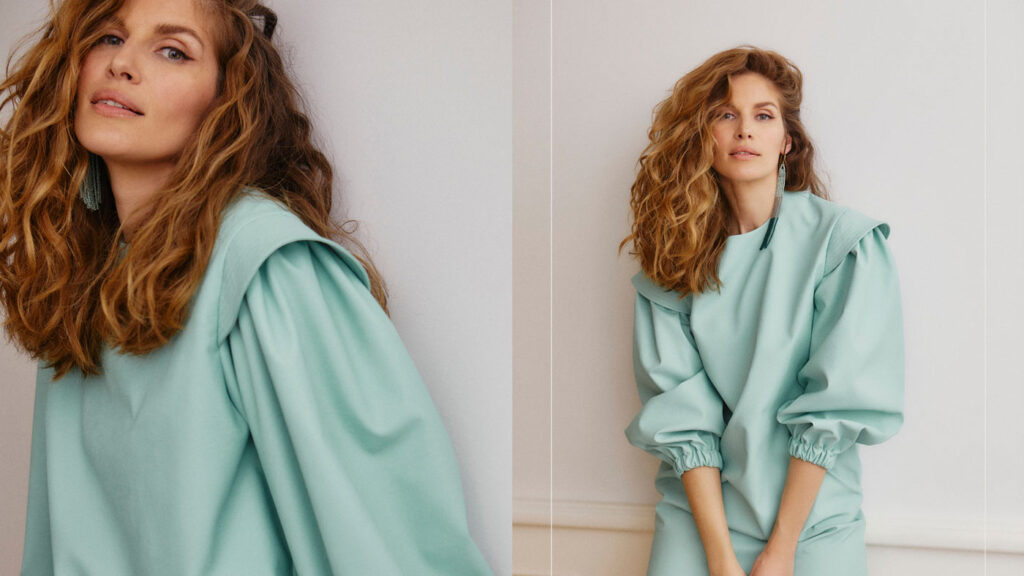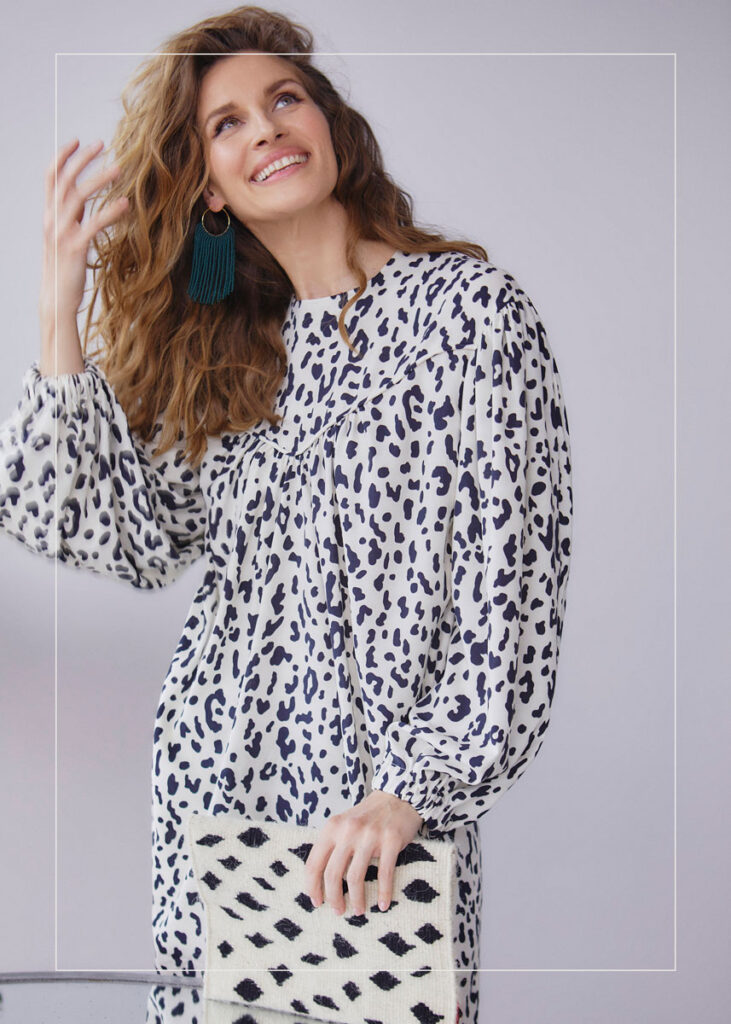 "When you feel good in what you're wearing, it most certainly puts you in a better mood and helps boost your day. This is what I envisioned to achieve with the Pretty Woman collection – to elicit a smile on someone's face because of the rich new colors and fabrics, architectural cuts that in combination with the organic lines of our bodies create a fine balance. My wish is to turn every woman into a determined, charismatic beauty with an enchanting smile who feels exceptional in A'marie clothes, " said Anamarija Brkić about her newest collection.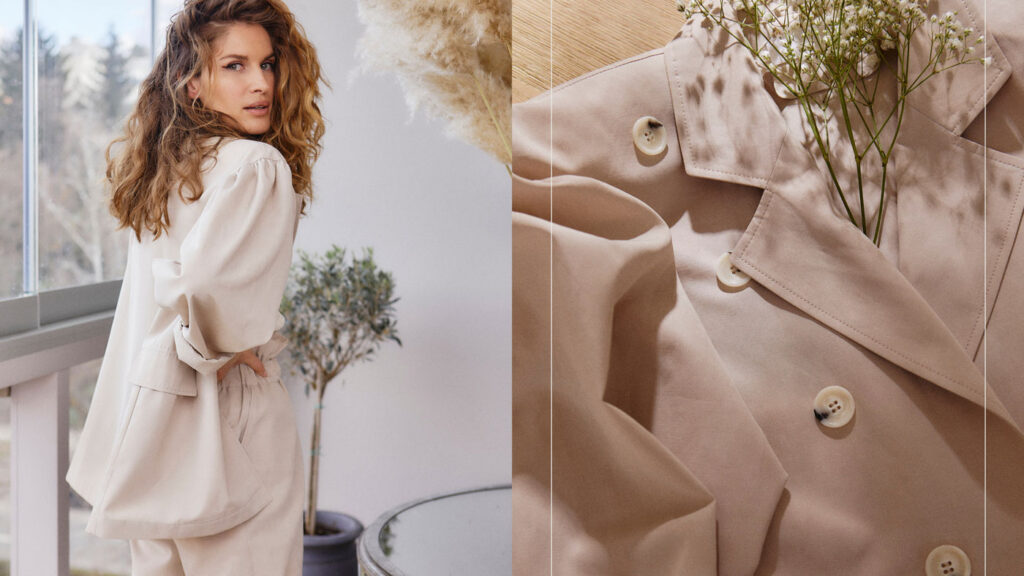 The Pretty Woman collection beams in A'marie's usual aesthetic – oversized blazers, dresses with power sleeves, retro skinny stirrup pants, tailored pants with side slits, sculptural silhouettes with ruched detailing. The collection is infused with mood-elevating optimism, joy and effortless statement pieces one can wear from day-to-night. Wardrobe staples in A'marie's spring vision come in irresistible textures always with the emphasis on comfort and the cut. A novelty is styles made from hemp in white shade. Hemp as a fabric has similar texture to cotton, but it also feels like canvas. It combines the spirit of antiquity and modernity, and transcends time and seasons. Beige blazer is a favorite piece of fashion insiders – it has been cut with an oversized fit from gorgeous Cupra that feels like silk against the skin. Styled with the coordinating pants with sneakers or stilettos, it creates an effortless power look.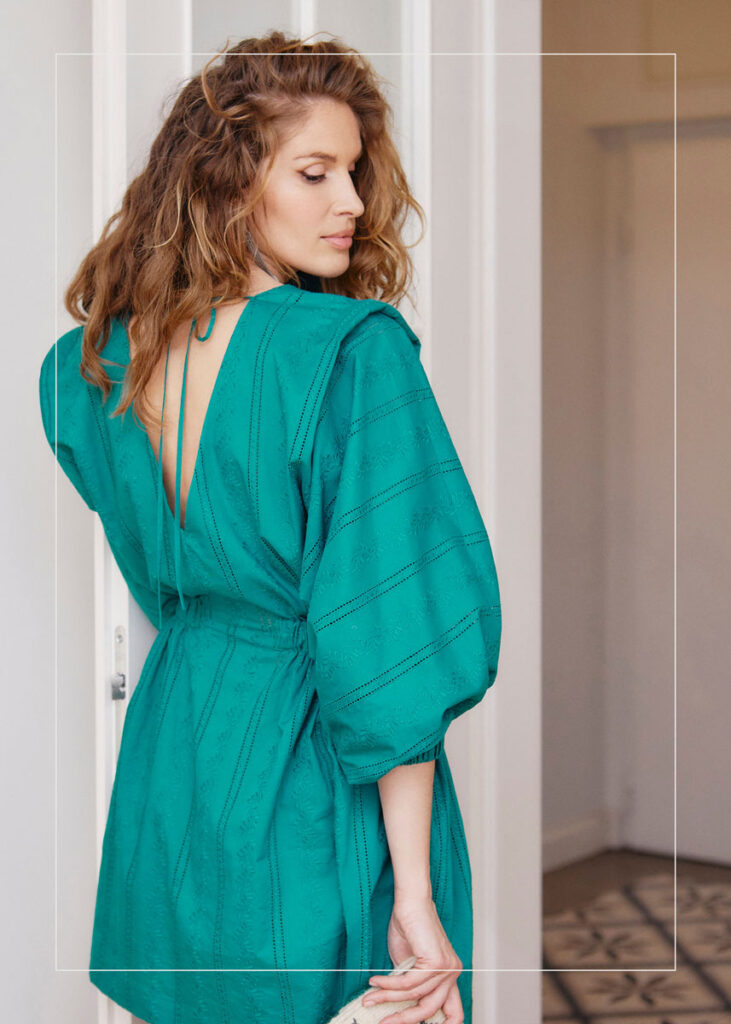 Fashionistas will be focused on soft vegan leather pants. With a flared silhouette and side slits, they come in mint and pink hues. You can base your warm weather ensembles around these pants with romantic blouses, simple cashmere T-shirt, our Drew jacket or knit sweaters in a palette of shades.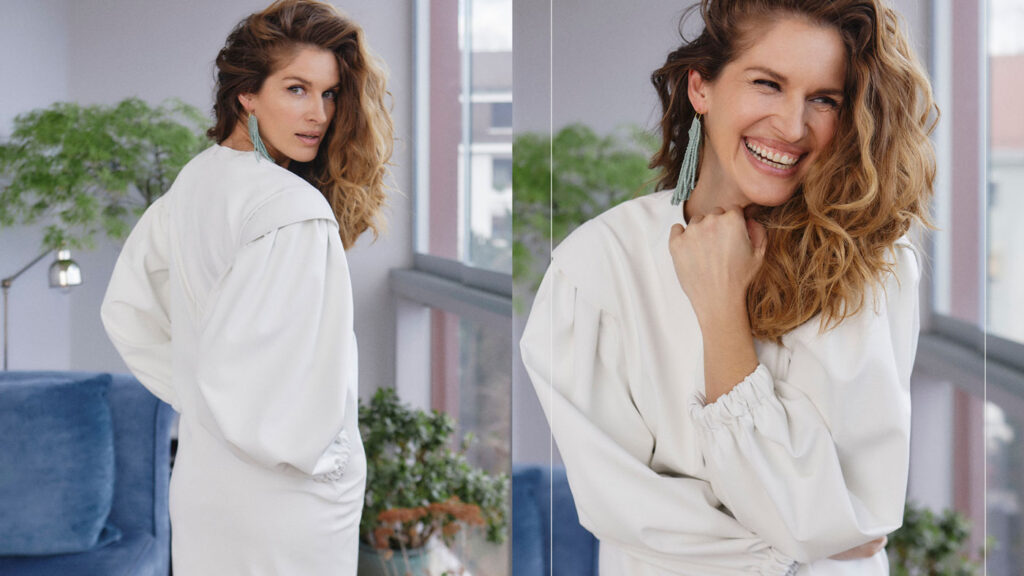 A'marie dresses are eagerly awaited every season, and this spring they exude romanticism and desirability. Lou, the vivacious black and white print dress with ruched detailing, is one of the leading pieces of this collection. Eva dress is a vegan leather piece in a distinctive shade of mint green, and, as such, it is a fantastic transeasonal option. Its relaxed fit and baloon sleeves are refreshing, and if you choose to pair yours with white sneakers, braided sandals or pumps, you got yourself a contemporary casual look. Another alluring dress for urban rhythms is Dana dress in the emerald green shade.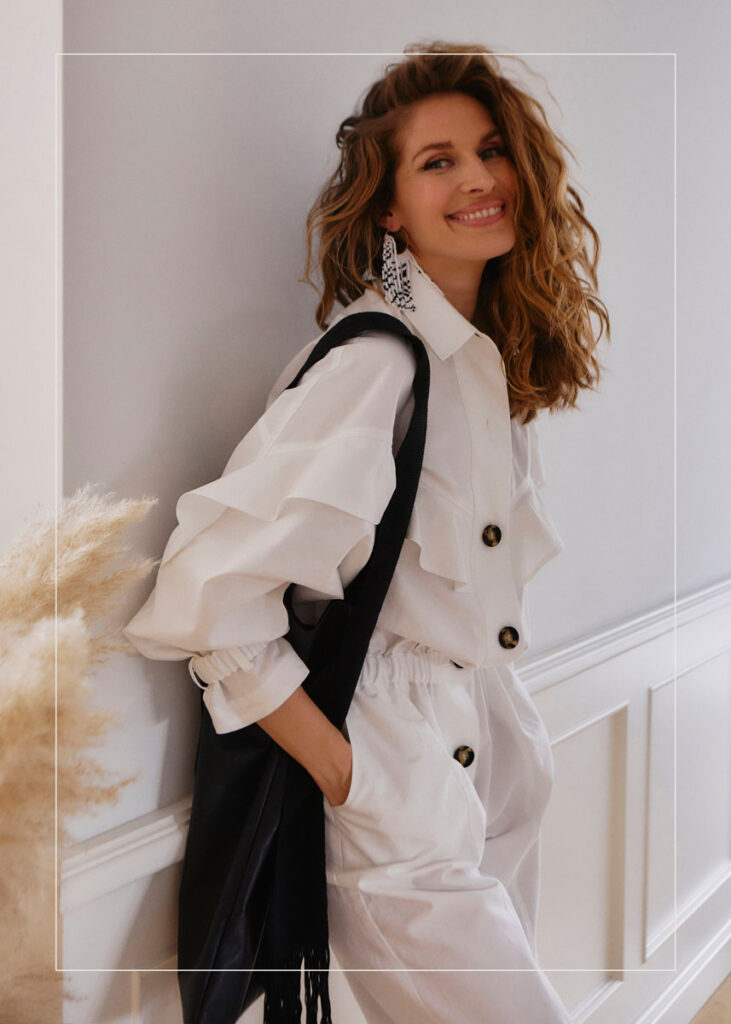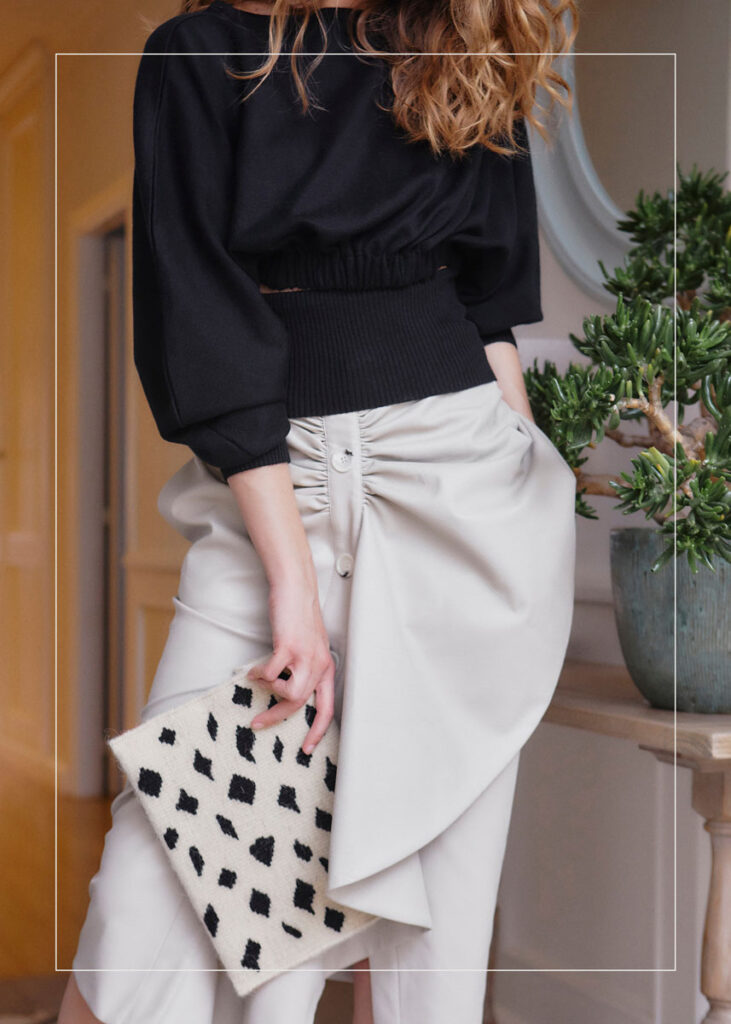 Breezy style, cotton lace, and subtly exposed body parts are its main features. Along with the dresses, A'marie has focused on a feminine statement skirts. Liv and Rene skirts are magical options made of vegan leather with a divine front ruffle detailing and lovely buttons that will bring a modern edge to work or evening outfits. Styled with cashmere T-shirt, a delicate blouse or a knitted sweater, these skirts are go-to pieces. Playful earrings with beaded tassels that create beautiful movement and adorable handmade pouches crafted from eco wool will complement impeccably day and evening outfits.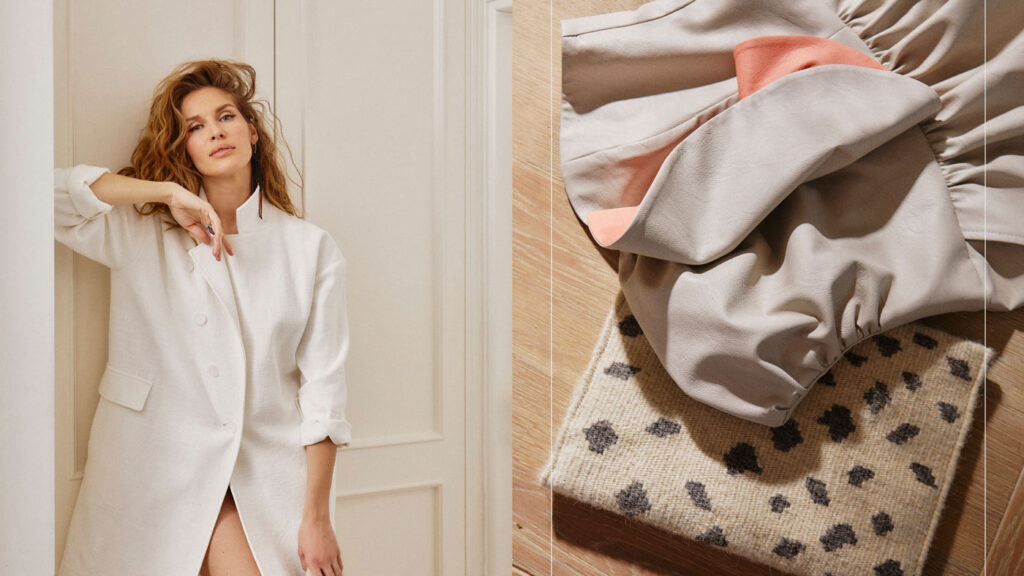 Whether she walks down the street in the most elegant dress, seduces in a power suit, or excels in a statement dress, our spring Pretty Woman is purely sensational.