Mother's Day Brunch and slow-living talks
For this Mother's Day, we decided to do something a little bit different. Something the A'MARIE way.
In the beautiful office space of Materia, we gathered some of our A'MARIE girls, who practice
slow living moments in their busy and sometimes completely wild lives. These women found
some little moments for themselves and treasured them dearly. For one, that is a perfect matcha
latte; for others, it is a few moments of meditation or a few down dog poses; and for someone
else, it is an act of cooking that gives that meditation moment. Some escape to nature, while
others do this within their own four walls. Each has different methods, but the one thing they
all have in common is that these things work for them. It gives them a chance to breathe and
go on with their day.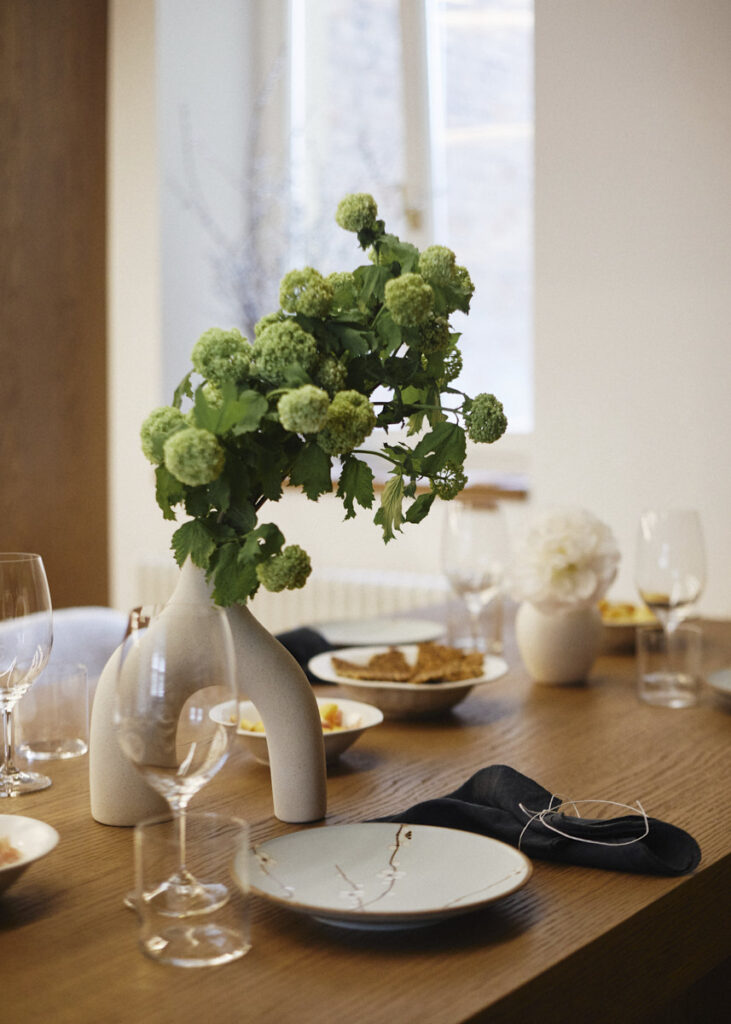 We in A'MARIE try to really celebrate those slow-living moments. Slow living and slow fashion share a common philosophy centred around a conscious and intentional way of living. The concept of slow living involves taking the time to slow down, appreciate the present moment, and live in a more mindful and sustainable way. Similarly, slow fashion is all about embracing a more sustainable and ethical approach to fashion by prioritizing quality over quantity and investing in pieces that will last for years to come. We really invest time, hard work, and the finest materials to make our craftsmanship work and to make each piece the best possible way we can.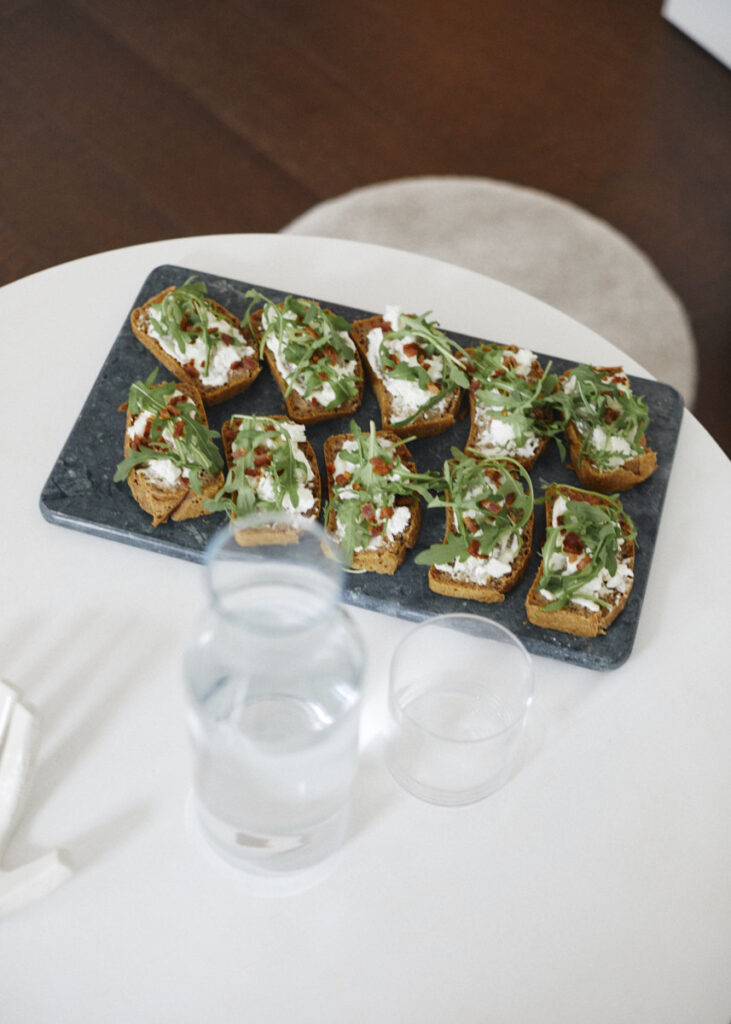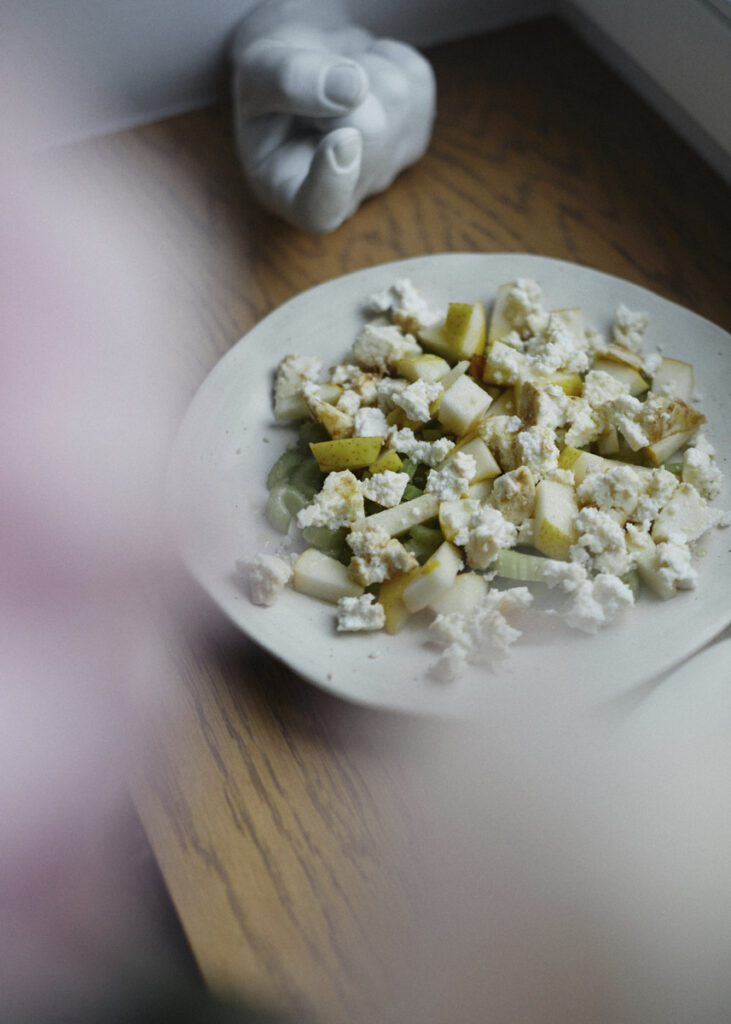 In essence, slow living and slow fashion are two sides of the same coin, both promoting a conscious and sustainable way of living that prioritizes quality, mindfulness, and sustainability over mass consumption and instant gratification. By embracing these principles and incorporating them into our daily lives, we can create a more sustainable and fulfilling way of living for ourselves and for future generations. Which is a goal here at A'MARIE.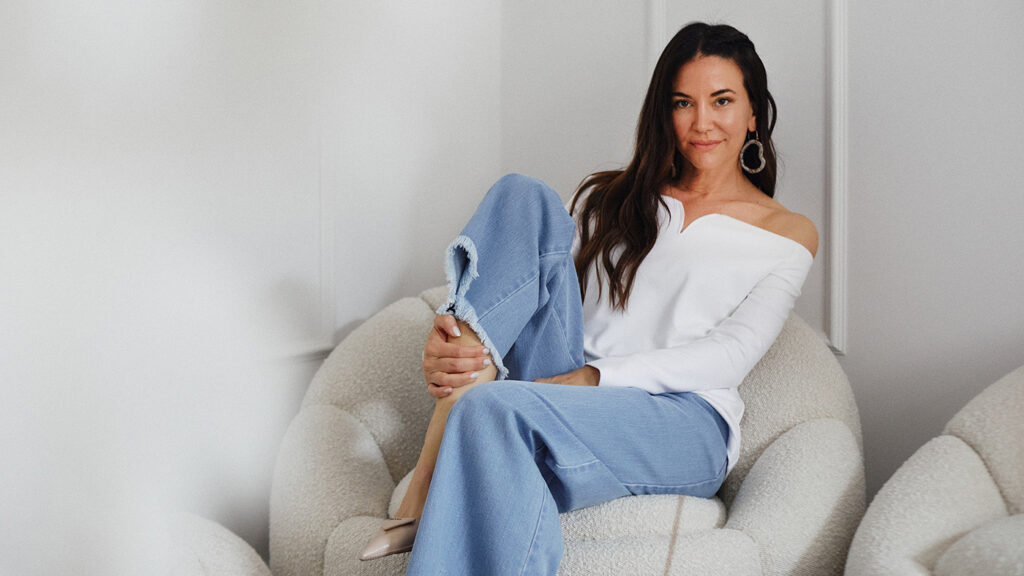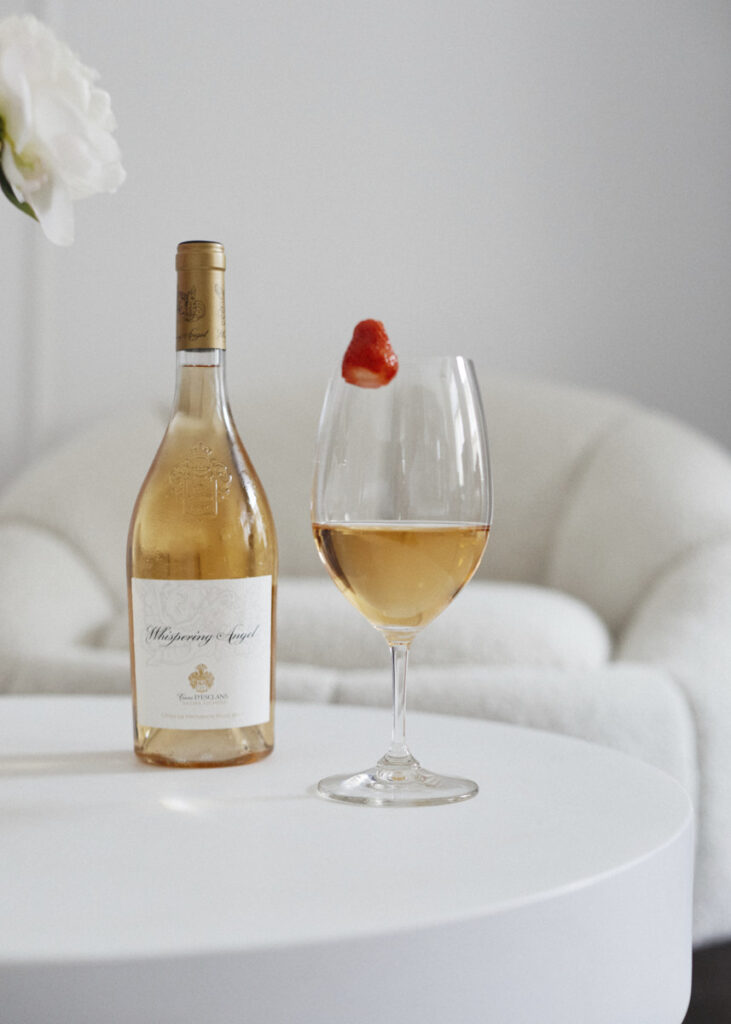 So this Mother's Day, we wanted to celebrate those things with these women. Our founder even prepared some divine and healthy choices. Our friends from Materia made the perfect matcha lattes and showed us one more time the right way to make a perfect cup. And the emotions that our A'MARIE girls brought filled the room with the perfect atmosphere. We succeeded in making one afternoon a bit special and out of the ordinary. And we ended it with a glass of beautiful rosé called Whispering Angel.
It was a room full of wonderful women and a table full of love. The table represented a simple act of caring—making time for another. When cooking for someone, we want to spread more love, and by doing so, it makes our lives richer.
So, this time we will share with you two of our favourite recipes, full of love and all the good ingredients.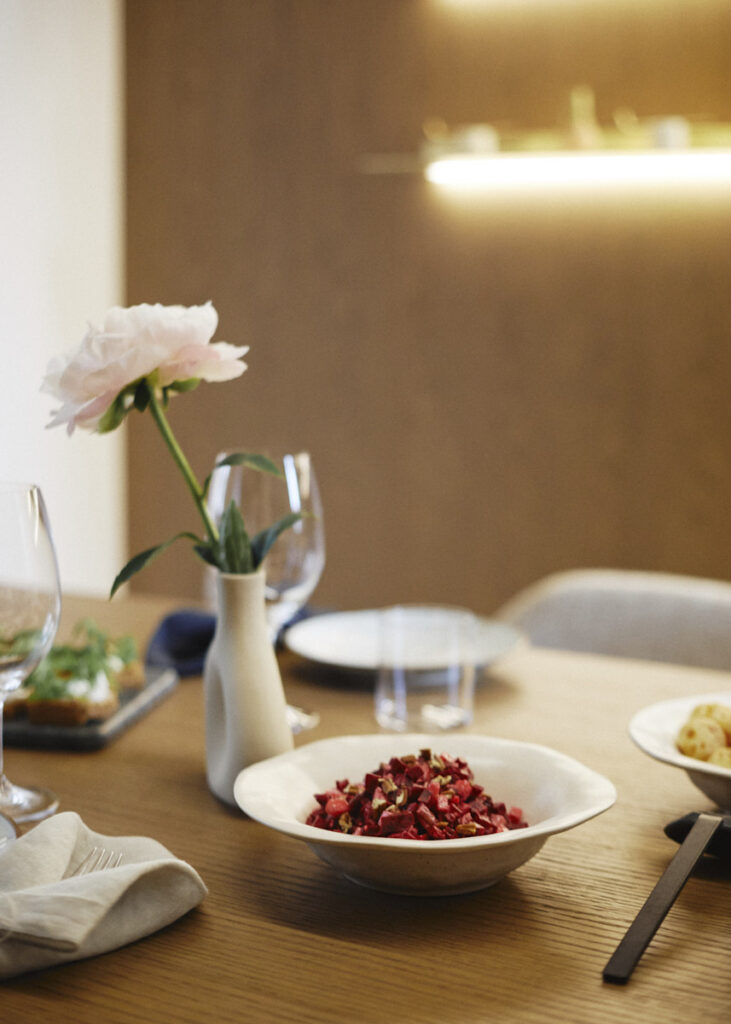 Beetroot salad
Ingredients:
3 raw beets
1 pear
feta cheese
pecan nuts
1 tbsp olive oil
2 tsp mustard
juice of half an orange
2 tsp honey
a pinch of salt and pepper
Wash the beets thoroughly, leave the skin on, and place them in a preheated oven at 180°C for about 60 minutes. Take them out, let them cool down, peel them, and dice them into small cubes. Dice the pear and crumble the feta cheese over it. Sprinkle with crushed pecan nuts. In
a small bowl, mix olive oil, two teaspoons of mustard, two teaspoons of honey, and the juice of half an orange to make the dressing. Pour it over the salad and season with a little salt and pepper.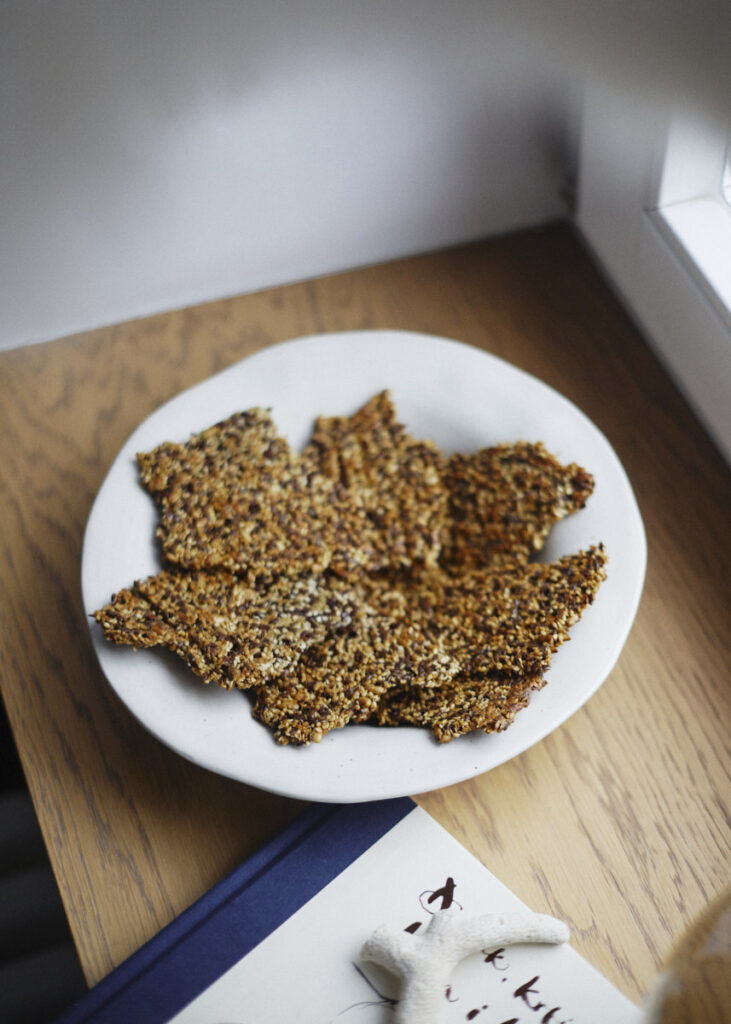 Crunchy seed crackers
Ingredients:
1 cup flax seeds
1 cup sesame seeds
1 cup sunflower seeds
1/2 cup water
a pinch of salt
spices of your choice
Mix all the ingredients and pour in the water. Let it rest for 15 to 30 minutes. Stir again, and add a little more water if needed. Spread the mixture thinly on parchment paper. Bake in a preheated oven at 150°C for about 45–60 minutes. Take it out, place new parchment paper on
top, flip it over, and bake for another 30 minutes. Tear them into small pieces and serve after they cool down a bit.
Enjoy these bites full of love.
And last, but not least, we had some pretty nice tunes that followed us along the way. So turn the volume up and check out our Mother's Day Brunch playlist, which was the perfect background for this afternoon.
Love,
A'MARIE